NEXT SALE!
 March 21-24, 2024
FDL Fairgrounds Rec Center
Thurs.   4-8,  Fri.  9-8,  Sat.   9-5,  Sun.   10-2
      Drop off begins Nov 7th and continues every Tues,
usually in BLDG E from about 8:30 am – 2PM
Thursday
$5.00 admission:  free admission Friday, Saturday and Sunday
Saturday,
half price books day
Sunday, Fill up a box for $5.00
Besides books and audio books we also have jigsaw puzzles, toys, games, DVD's, records
We will be doing simpler pricing again this year. Most books will be unmarked and cost $2.  Some books will have stickers with prices on the front cover. Thank You everyone who came to the 2023 sale. It was great to see you!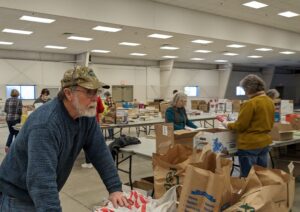 Book Sale history
At the August 1961 board meeting it was decided that the group's money making project would be an annual book sale, to be continued as long as it is reasonably successful. The first book sale was held at the YMCA in April 1962. The profit was $200. For the next several years the sale was held in an empty store on Main Street. Since 1969 it has been at the Cow Palace on the Fond du Lac County Fairgrounds. The book sale continues to be successful and usually generates $18,000 to $20,000 profit to fund local scholarships for high school graduates and re-entry students, local projects national fellowships and educational funds.