So, the program for the year is hammered down, book sale -ship is hoisting its sail with the sort dates in place and the board had annual meeting.
It'll be a fun year! I know I'm chuffed!
Members check out the book sorting days –
and if you're not in our branch but want to hang out anyway, we'll be happy to get an extra pair of hands!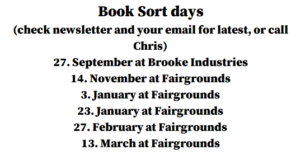 ---
Fond du Lac Branch AAUW History
The Fond du Lac Branch of AAUW began on February 25, 1922 with 53 charter members. Programs that first year addressed equal rights, child labor, the addition of a Secretary of Education to the President's cabinet, and universal health training in the schools.
Education for women has always been a focus of the group. Since 1929 the group has given generously to Fellowships which are administered by the national AAUW. One of the fellowships was established to honor Frances Perkins, our first Branch president.
Assistance for local young women attending college began in 1922 with a loan program which soon changed to scholarships. The first style show in Fond du Lac was held to raise money. Style shows and many other fundraising projects continued to fund local scholarships and national fellowships.
For many years the branch brought children's theater productions to the community. Many community projects have been supported over the years and sometimes AAUW has provided the spark which resulted in groups which still continue: the local Community Theater, the Artists' Association, the Adult Literacy program, to name a few. It has given scholarships for students to attend a variety of summer programs to foster leadership skills and expand academic interests.